Discover the legend of 'Idris the giant' at Cadair Idris National Nature Reserve, North West Wales
The legend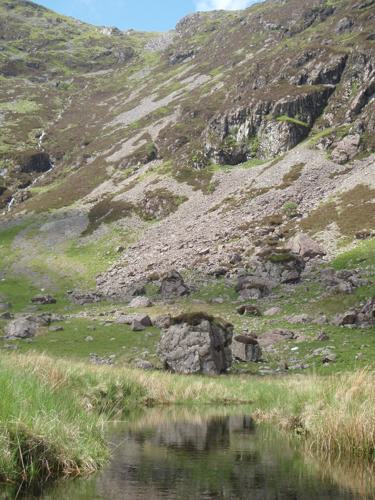 The dramatic landscape of Cadair Idris, along with the changeable weather, has fuelled the imaginations of generations of story tellers.
As a result, it is an area rich in myth and legend and one of the most famous stories is about Idris the Giant.
Cadair Idris means Idris's chair in Welsh and the name comes from the giant warrior poet who is said to have created a seat at the top of the mountain to view the heavens.
One day, Idris was sitting in his chair when he felt pieces of grit inside his shoes.  He cast the grit down the mountain and the three large stones that rest at the foot of the mountain are said to be those annoying pieces of grit.
Nowadays Cadair Idris is a National Nature Reserve and the mountain's summit is the destination for thousands of experienced walkers every year.
You can follow in their footsteps part of the way to get a taste of the open mountain on the Nant Cadair Bridge Walk or on the shorter Gorge Climb.
There are also two accessible paths around the lake in the parkland below the mountain. You can find out more about the legend of Idris the giant in the visitor centre and café which also has information about the geology and wildlife of the National Nature Reserve and a film with stunning aerial footage of the mountain.
Watch the 'Natural Resources Wales' film about the legends of Cadair Idris
The film is bi-lingual. The Welsh version plays first and the English version follows after seven minutes.
The walk
The Nant Cadair Bridge Walk starts just past the visitor centre at the entrance to the National Nature Reserve. You'll go through the Celtic Rainforest and enjoy views across the gorge.  You'll then climb steeply onto the lower slopes of the open mountain until you reach Nant Cadair Bridge.  From here, you need to retrace your steps to the visitor centre.
The path itself is known as the Minffordd path and it continues to the summit of Cadair Idris. However, it is a very steep and strenuous climb which should only be attempted by experienced walkers with appropriate clothing, footwear, and a map.
Length: This is a linear (there and back) trail which is ½ mile (1km) long one way.
Terrain: The path from the car park to the visitor centre is wide and accessible but the Nant Cadair Bridge Walk takes you onto the open mountain. It is a strenuous and steep walk with a total climb of 620ft (190m).
Start and finish: Cadair Idris Visitor Centre (accessed from the Snowdonia National Park Authority car park off the A487 between Machynlleth and Dolgellau).
This article is part of an article published by Natural Resources Wales on the 5 legendary landscapes which you can read in full here: https://naturalresources.wales/out-and-about/year-of-legends/discover-five-legendary-landscapes/?lang=en